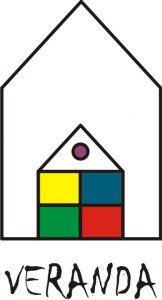 "Veranda" – the small "Portico." Art School "Veranda" is a meeting place for learning and communication. We learn to know ourselves and one another through arts:
To see, listen and move,
pour, mould and admire,
associate, joke and console,
touch, think and smell.
We believe that artistic practice brings people together and helps them to live an interesting, joyful and full-fledged life.
In creating the structure and methods of "Veranda" we use insights of contemporary philosophy, theology and science of education. We continually take into account and shape ourselves to take into account the feelings and experiences of the youngest among us…
We believe that spiritual growth is the consequence of all other growths in our lives. This meeting of the knowledge, which come from many directions, is a stimulating challenge!
Do not sit at home, come to Veranda!
Why? Abilities generate abilities. The earlier we start to take care of the child's education and pay attention to child's socialisation – the better. Thus we lay a good foundation for the well-being of child's entire life. Self-control, openness, ability to co-operate with others, to make plans and be persistent – these qualities of the character lead to a full-fledged and fruitful life. In the long run they become inseparable from cognitive abilities and stimulate the latter and make them efficient. Motivated children learn more. Those who know more usually take wiser decisions.
Registration by emails: portikas@gmail.com (Vilnius) and klaipedos.veranda@gmail.com (Klaipėda)
Time of lessons:
Vilnius – Fridays from 10:00 (Verkių st. 22)
Klaipėda – Sundays from 13:00 (Vytauto st. 38)